︎Life in a caravan
Susy
Portugal
This was the beginning of our story. Magical Love. Our relationship was like an expansion of all the good feelings. This was meant to be. We were searching for each other in these interconnected Universes until we met. It took us no more than 3 times seeing each other to decide that we want to live together, and it took me 3 months to propose to him. We wanted to have the life we only dreamt we could have. We decided to live freely in a caravan, where we were able to move wherever we wanted to and still felt like home. An old school van from the 80s became our home. I wouldn't have traded all these for anything else: the mornings when the sun wakes you up, the sound of the ocean as a morning soundtrack. That slowness when there is no need to rush to start doing something.
What time is it? Wednesday Morning. Just relax. And even a bit more. Expand the possibility to just fully be. Walking on a beach, inhaling fresh air and admiring the powerful beauty of the ocean spirit. I look at it and I still can't believe this is my life, that this is real. But as the ocean's waves drive the energy movement, that's how we decided to move as well. We moved into our first home. It was not easy to leave our caravan and start to live in a let's say "standard way". The first month, even if we got the keys to our new home, we decided to stay in a parking lot, in our school van, because it was so hard to say goodbye to it. Basically, we were renting a house, but still living in a parking lot near the house. Some habits die hard.
The parking lot felt like a social experiment. People passing by all the time, but we were standing still. We kept enjoying our mornings there. I started to plant herbs and at some point, we even had an apple tree in the van. We created a little garden in our little van.

With the upcoming winter and quite a big tree growing in the van, we understood that it's time to move into our new home. We didn't just move, we also moved our relationship to the next level.

From our dream life, we dived into the deep sea of our relationship.
All started by watching a video talk from Jack Kornfield about forgiveness. Deeply touching meditation opened a hidden door within me. The door for an absolutely new direction in my life. The door of suppressed feelings, hidden pains and not healed wounds from the past. The door of trauma. I had no idea that this night will turn my life upside down. At the beginning of 2019 I started this absolutely new path. Path of healing and allowing to see the truth under all those layers which I created to protect me. Path of forgiveness. And maybe the most difficult path, the honesty patth.
What happens when you start saying the truth? To tell yourself the truth? How intimate can you be with your deepest feelings, those you are trying to hide from, run away, push them aside. And how beautiful it can be to witness a slow reveal of those hidden doors?
It took me time to understand those unwanted feelings coming from my past. It took me time to understand that trauma can be a gift. To be able to face my anger and frustrations, to look at my previous love partners, to reveal my hidden memories and my suppressed pain.
A pain which became real. Fully physical. Not letting me live. Not letting me fake it. That kind of paint that keeps you up at night.
There was no other way than to go through it and face it. Heal it. Together.
So I am here now standing in front of him with my wounds fully open. Wounds which are not visible from the outside. This is me, this is who I am. There is no more time for me to pretend that "I am fine".
And what happens when you start telling the truth to your partner? Microscopic truth. Are we really able to be fully honest? If we are asking for honesty are we really ready to listen? Because listening to that microscopic truth is not always pleasant, sweet or heart-filling. But it's real. And real is deeper down the rabbit hole. Real is deeply intimate. For both.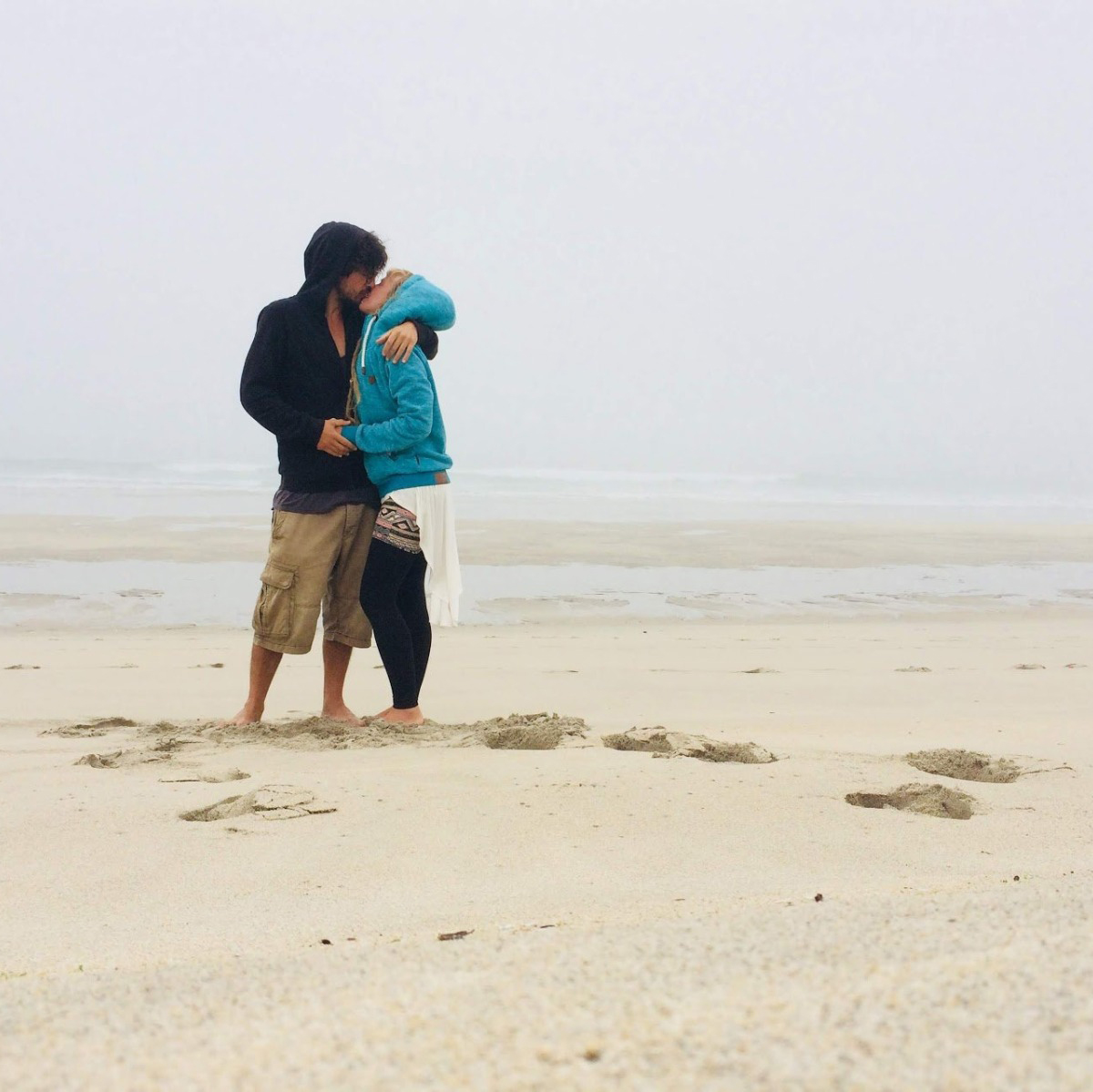 He stayed. With me. Giving me the needed space and witnessing the transformation of these old pains I was holding for years. He was making hot soups and he was taking care of me. We slowly started to grow together but this time from a completely different standing point. Our ground was shaken, but together we stopped being afraid and we created a perfect soil for us to dig deeper. Now our roots are deeper.
Trust as I never experienced before. Intimacy as I never felt before. I was able to take out all these masks and layers that were shielding me from myself and share THE essence, MY essence, whether it was beauty or ugliness in there. To me, Intimacy is to be fully naked, even when you are dressed. And trust me, not everybody is ready to see that bruised body.
He is still making lovely soups and I still love to eat them. We still have our first home, where our story started, in a van. Thanks to this experience I became a breathwork facilitator and now I am holding space for those who are on their awakening and healing path. At the end of 2019, after my graduation breathwork camp in Spain where my partner came to support me, we decided to spontaneously change our direction. On the way back home to Portugal, we decided to do a road trip around south of Spain as our integration process. We let ourselves be on the road again. To be free. To fully inhale this new stage of life. More deep, more real, more intimate.