︎Couples Miles Away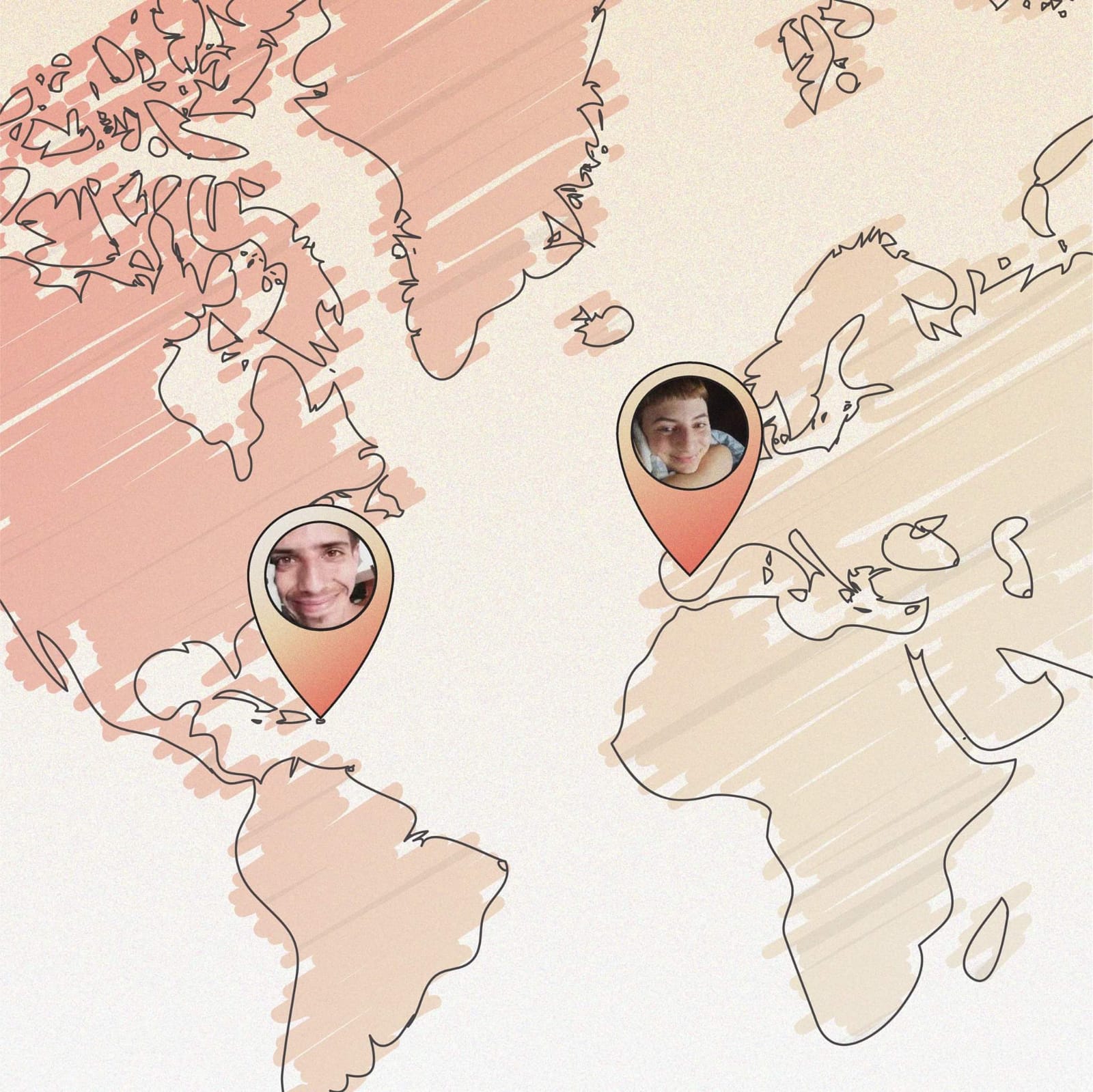 Feeling like
Tom Hanks in Castaway
Maria
︎Madrid, Spain
"I'm living in Madrid for almost 3 years now. I'm not going to get into any romantic details of why I moved here but It's not as bad as I usually tell everyone. People are always out, partying and always organizing some festival in some corner of some street. Until China fucked it up.
I don t know what's the exact situation, what's the toll or the freshly baked news as I don't own a TV. All I know is that I'm not allowed outside unless it's for buying food or medicine. It would be just fine for me, really, staying home for 15 days, working from bed, that would normally sound like a dream plan but it's not. Thank god it's raining!
I live in Malasaña, in the center of Madrid, in a very small attic with the bathroom outside. The building's old, about 200 years maybe more so it's all made of wood. It's like a love nest that I share with my husband though too tiny for our necessities. We are both artists and thank God we complement each other, otherwise it would feel like sharing a shell with another crab. Anyways, my husband, Jean, left 2 weeks ago to Puerto Rico with some business. Right when the whole
#CoronaChaos
was starting. Having this "huge" apartment for myself never felt better... until they announced the lockdown and started closing borders. Now that's freaking scary! One day you go to work like nothing happens and the next day you wake up imprisoned in your own house. So here I am, on the 3rd day of the lockdown, all alone in my tiny attic, with no human connection, no physical interaction and very soon, no food left. Going to the supermarket in front of my flat will feel like a blessing and oh how I hate moving my lazy ass! Now I'm craving some fresh air outside, my daily 7 min walk to job, buying a slice of pizza from the corner or window shopping on Fuencarral street. First thing I read this morning on the news was that actually it's going to be more than 15 days. This feels like an experiment of self isolation. I feel claustrophobic in here and I might soon knock on my annoying neighbor's door just to hang out though he probably hates me more than I do.
EVERYDAY AT 20:00 PEOPLE GO OUT THE WINDOW AND GIVE A HARD RANGE OF APPLAUSES FOR THE HARD WORKING DOCTORS AND NURSES.
That's about all the human interaction I get apart form the never- ending videocalls I do with my friends and family. A lot of people are losing their jobs already. The restaurants I work for and many others, fired almost all of their employees. Why? Is this some sort of apocalypse? Is it going to be more than 1 month on lockdown? Maybe two? I can tell you that if so, I will definitely need psychological, post- traumatic assistance. Meanwhile Jean's affairs got postponed, all his gigs and festivals got cancelled and his country closed its borders.
So here I am feeling like Tom Hanks in Castaway.
It's late. Tomorrow I'm waking up early to work from home. We have to change all our ad campaigns and adapt them to the situation, making other people's life's fun and cozy.
Here's my diary, I rest my case. Ask me how I'm doing in 15 days!"
---
"IS THIS THE RIGHT THING?
AM I MAKING A MISTAKE?"


Jean Perez
︎Puerto Rico

"Is this the right thing? Am I making a mistake?
I asked myself those last few days we spent together. It was during those first days of the Covi-19 outbreak, when I had a call to work on some really exciting things back home. I'm a musician from Puerto Rico, but I was living in Madrid, Spain and at the time my biggest concern was "is it worth leaving everything behind to do this?"
My wife Maria was the first person to tell me to go do it, that she'd be just fine. She told me to follow my dreams and passion, that that's what artists do. She always has, from the beginning. She's also an illustrator and graphic designer, so she knows what it means to work hard for your passion.
Those last 2 days before leaving, coronavirus has spread like wildfire in Italy and coming closer and closer to Spain. I was leaving... but Maria was staying... alone.
None of us are from Madrid (she is from Bucharest, Romania) so we don't have family there. This was very worrying. One week after my arrival home, the coronavirus had made its way to America, and governments started closing down borders between Europe and the US, including Puerto Rico. First thing that comes to mind is Maria. She has to stay there quarantined 24/7 in an apartment with no friends, no family, nothing. I am devastated.
Even right now as I am writing this, I am not sure when I will be able to return back to Spain and see Maria. We are 6,427 km away form each other with a 6 hour difference. We now do a lot of FaceTime actually!
Every morning I wake up to some texts she has sent me during her day, while I'm still sleeping. It's nice to see her messages first thing in the morning, it feels like she's here with me. So I return the favor every night, when I know she will wake up 6 hours before me.
She actually spends half of her day without knowing anything about me (remember I'm still sleeping because of the time difference haha). We also have our own cultural platform on which we work together all the time, so this is another way of staying active as a couple and professionals. Even through these tough times, opportunity seems to knock on the door and Maria and I keep growing stronger as partners in work, but even more so in life.
Amidst all of the pandemia and "near end of the world" times we are living in, I can still enjoy my time and intimacy with her. I can appreciate who she is and our relationship so much more. And actually, this isn't the first time we are so far apart from each other for an extended period of time... As I told you, we are from very different parts of the world... but that's a story for another time. What I can tell you though, is that when we see each other again, it'll be like meeting for the first time. Like falling in love all over again. I'm not 100% sure when we will see each other again in person, but I do know that when we do, it'll be magic all over again."